MetroCentro

All images link to larger copies which will open in a new window/tab

This page shows images of the short Seville tramway in 2017. I did not have time to travel on the Metro which also uses tram-like vehicles but is unconnected with the tram operation..





The tram (tranvia) goes south from Plaza Nueva, the centre of the city, and has four stops, covering a total distance of only 2.1km. This must be one of the shortest modern new generation tram systems. After leaving from Plaza Nueva, it goes down Avenida de la Constitucion past the Cathedral, stopping at the Archivo de Indias (next to Alcazar Palace), San Fernando (where Puerta Jerez Metro station is), the Prado de San Sebastian (Metro station), and terminates at San Bernardo train station (Metro station), where you can catch a Cercanias train. Confusingly, the tram is called Metro-Centro, even though it's nothing to do with the metro. It runs from 6am to 1.30am.


You can buy a ticket (1.20 euros) at any station, from the machine on the platform, which you stamp on the tram itself. A more economical option is the combined bus/tram rechargeable pass, Tarjeta Multiuso (see above, Bus).

For those interested the tram runs on both 750V overhead power and its own batteries. This design is to avoid ugly electrical catenery wires in the historic centre next to the cathedral. The trams have to charge their batteries at the stations in this 500m section. Locals rushing for the tram in Plaza Nueva know when it is about to depart as the pantograph on the roof is lowered. There are future expansion plans to Santa Justa railway station. The Metro Centro tram opened in stages between 2007 and 2011. The Metro Centro Tram saw a return of trams to Seville which has previously run from 1866 to 1965.





The Development of the Modern Tram by Brian Patton (Adam Gordon 2006):-
MetroCentro - TUSSAM
All images link to larger copies which will open in a new window/tab
Tram 301
Urbos 301 near stop Archivo de Indias
Photos: (c)Ian Boyle 17th May 2017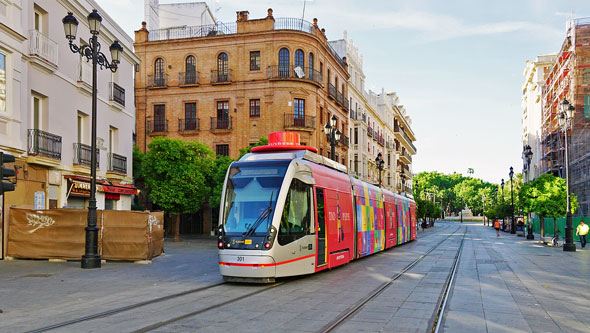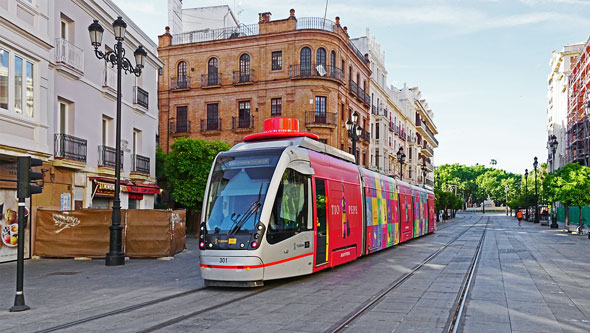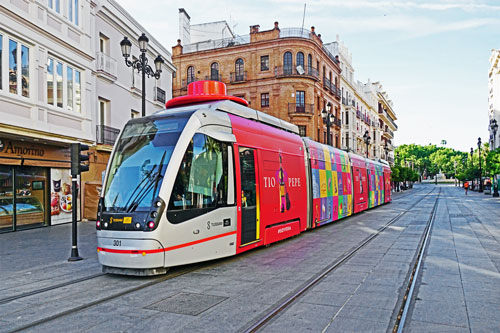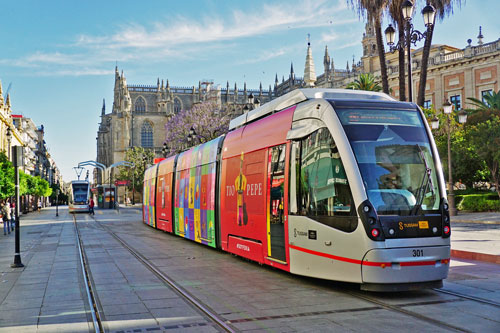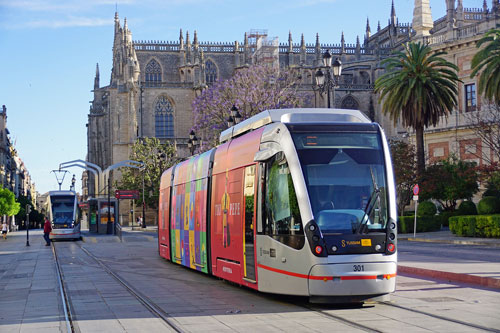 Urbos 301 near stop Archivo de Indias
Photos: (c)Ian Boyle 17th May 2017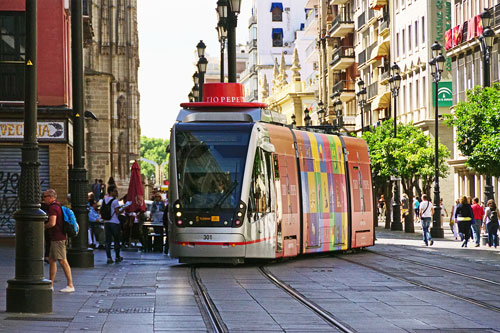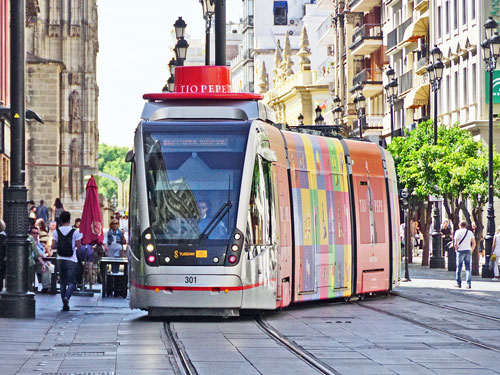 Urbos 301 near the Plaza Nueva terminus
Photos: (c)Ian Boyle 17th May 2017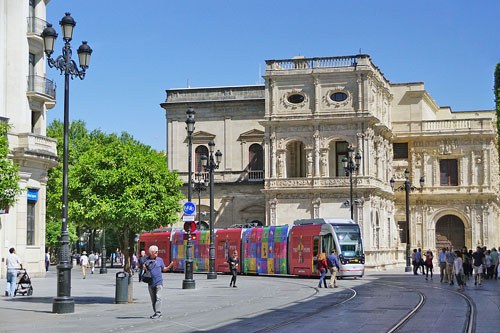 Urbos 301 (right) and 302 at stop Archivo de Indias
Photos: (c)Ian Boyle 17th May 2017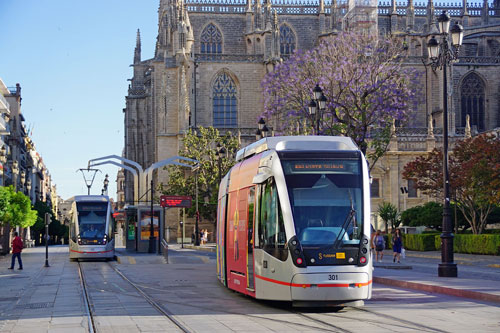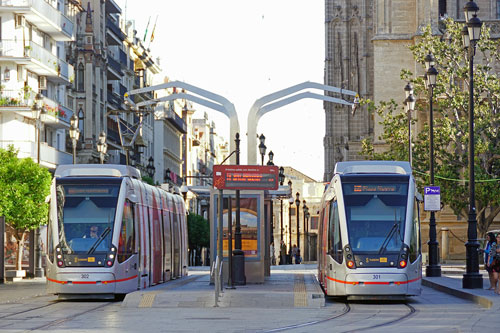 Tram 303
Urbos 303 near stop Archivo de Indias
Photos: (c)Ian Boyle 17th May 2017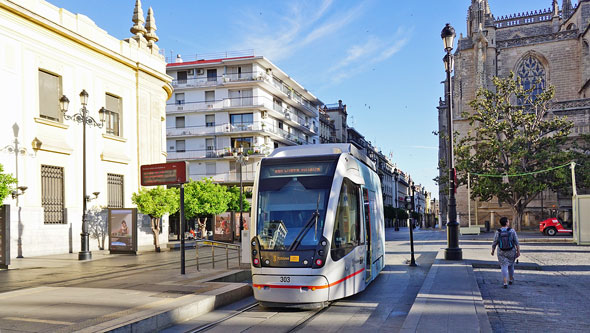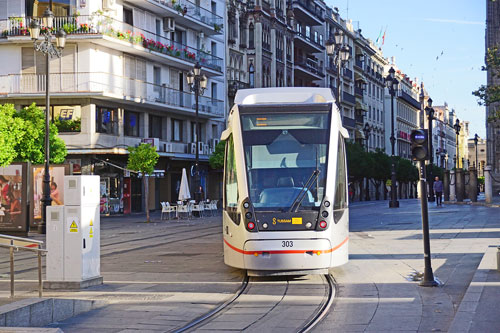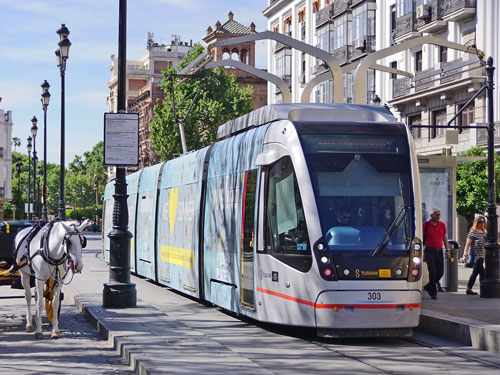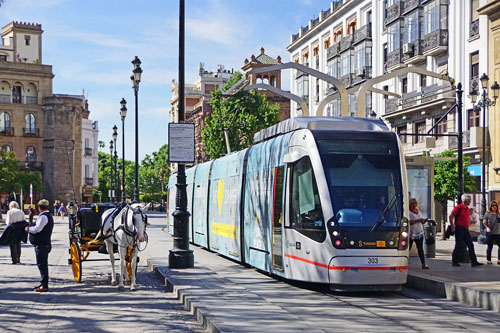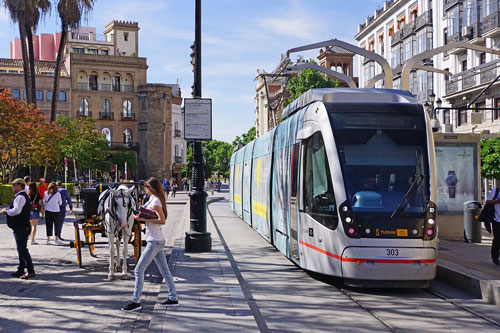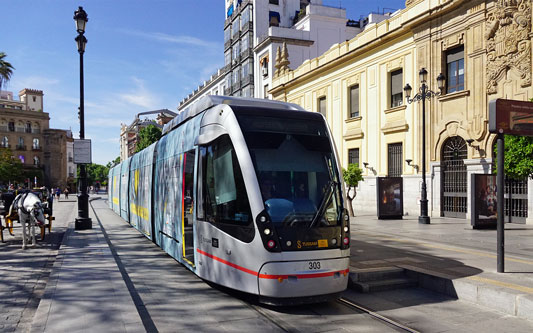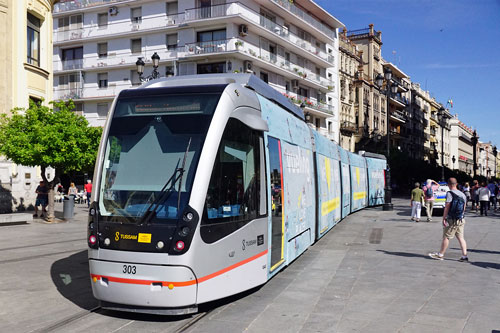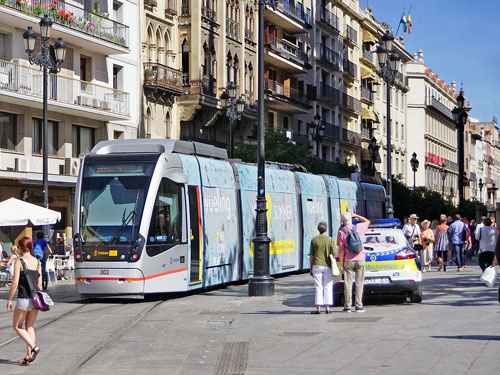 Urbos 303 at the San Bernardo terminus
Photos: (c)Ian Boyle 17th May 2017